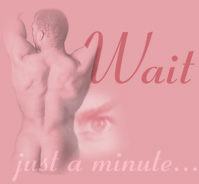 Before you go on enjoying yourself, make sure he's out having A beer
with his friends ...
We wouldn't want to give him the idea that you like to watch cute men
as much as he likes to leer at some gorgeous blond, do we?

Now, check your ID. It should say 'female' and you're supposed to be at least 18.

Ok, all clear? If not, please click here.
If it is...Enjoy our site!